We are repeatedly told to eat a variety of foods in a variety of colors, but why?  Are some foods better than others for some specific aspects of our health?  They certainly are.  Here is a brief look at the color of some foods and why they are beneficial to our health.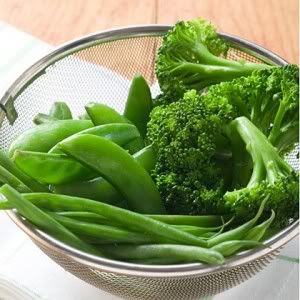 GREEN FOODS, especially the vegetables, help prevent the risk of cancer, diabetes, and heart disease.  They contribute to bone health, eye health, and the functioning of the body's immune system.  Green vegetables are low in fat and high in fiber.  For maximum benefits eat a variety of them, especially the dark green ones.
Some healthy green food choices include kale, collard greens, green beans, Brussels sprouts, avocados, watercress, spinach, green peppers, green tea, dark lettuce, soy beans, and nopales (cactus pads).
RED FOODS, also, are low in fat and high in fiber.  They protect cells from damage, help reduce the risk of cancer and heart disease, regulate blood pressure, reduce tumor growth, and keep blood vessels healthy.  Red foods aid in the absorption of iron, in the regulation of blood sugar levels, and the functioning of the brain and thyroid.  They also aid memory.
Some especially healthy red food choices include pomegranates, tomatoes, red beans, cranberries, red apples, strawberries, radishes, pink grapefruit, and cherries.
BLUISH AND PURPLISH contain flavinoids, the most powerful of all the phytochemicals in food.  These foods promote healthy blood vessels and therefore a healthy cardiovascular system.  They improve motor skills and aid with short term memory.  These Blue and Purple foods help prevent cancer, help rid the body of bacteria, and keep the urinary tract healthy.
Some healthy Bluish and Purplish foods are blueberries, grapes, purple potatoes, purple broccoli, black beans, plums, blackberries, purple cabbage, eggplant, figs, beets, and purple sweet potatoes.
ORANGE AND YELLOW FOODS are rich in antioxidants.  They neutralize the damaging effects of free radicals, aid in keeping the immune system healthy, and protect against cardiovascular disease.  Orange and yellow foods also keep the skin hydrated, and promote eye health.
Some good orange and yellow foods are carrots, mangoes, kumquats, oranges, pineapple, cantaloupe, guava, passion fruit, sweet potatoes, corn, persimmons, sweet potatoes, orange squash, and papaya.
WHITE FOODS also play an important part in the body's health.  They aid the circulation and artery healthy by reducing abnormal clotting.  They lower blood pressure and cholesterol levels.  They stimulate the immune system and act both as an antibacterial and an antiviral.
Some healthy white food choices include garlic, turnips, onions, white beans, horseradish, mushrooms, cauliflower, and pears.
The ten most nutritious vegetables, in no special order, are considered to be; carrots, sweet potatoes, tomatoes, soy beans bell peppers, asparagus, spinach, Brussels sprouts, broccoli, and kale.  For more information on these wonders, go to:
http://healthmad.com/nutrition/10-most-nutritious-vegetables/2/